Research Activities
Taking advantage of our location within China, the Beijing Labs actively engage in cooperation locally and promote technical exchange and industrial cooperation between China and Japan in the field of wireless communications. Our partners include the China Academy of Information and Communications Technology and China's three major operators (China Mobile, China Unicom and China Telecom), as well as domestic mainstream equipment manufacturers. The Beijing Labs have carried out comprehensive cooperation and exchange with its partners in Sino-Japanese 5G spectrum harmonization, 5G deployment strategy, 5G experiments and other fields. At the same time, we actively carry out joint research with well-known universities in China, including Tsinghua University, Peking University, Beijing University of Posts and Telecommunications, Beijing University of Aeronautics and Astronautics, Beijing Institute of Technology and Southeast University, to jointly promote the fundamental cutting-edge innovation of wireless technology and cultivate many outstanding Ph.D. and master's degree candidates.
In the field of artificial intelligence, the Beijing Labs have joined the China Artificial Intelligence Industry Innovation Alliance (AIIA), the China-Japan-Korea Strategic Cooperation Framework Artificial Intelligence Action Group (SCFA AI-TF) and other related organizations to actively contribute and share DOCOMO's technological innovation and experience in the field of artificial intelligence. We promote the cooperation between DOCOMO and iFLYTEK in natural language processing. The Beijing Labs have also established extensive and collaborative research on artificial intelligence with scientific research institutions such as Tsinghua University, Beijing University of Posts and Telecommunications and the Institute of Automation of the Chinese Academy of Sciences.
Awards and Honors
Since inception, the Beijing Labs have been committed to the fundamental innovation of wireless technology and have played an important role in academia and industry. When 4G standardization work was still in its infancy, researchers at the Beijing Labs carried out a large amount of pre-research and experimental work on MIMO-OFDM, a key 4G technology. Relevant outcomes were collected and published in a special issue of NTT DOCOMO Technical Journal in 2009, which laid the technical groundwork for subsequent standardization and promotion and evolution of mobile network functionalities. Over the past several years, academic papers from the Beijing Labs have won many awards for best paper at International academic conferences.

Special issue of the NTT DOCOMO Technical Journal based on Beijing Labs' research results

Best paper awards
At the same time, the Beijing Labs have garnered many achievements in domestic technical exchanges and cooperation: As the only foreign operator that participated in the second phase of the IMT-2020 5G trial, the Beijing Labs were responsible for drafting some test specifications, and drove the trial of the 4.9 GHz frequency band forward. As the first group of foreign-invested enterprises participating in the National 863 Program, it participated in the overall technical research of 5G mobile communication systems, and was responsible for multi-antenna technology research in ultra-dense networks. It was one of the founding members of the Future Mobile Communication Forum, and participated in writing several white papers on major topics including Massive MIMO, NOMA and mmWave. Researchers also serve as corporate mentors at Beijing University of Posts and Telecommunications, providing guidance to graduate students completing research projects that integrate engineering and practice.
In 2017, DOCOMO Beijing Labs was even awarded the "R&D Special Award" by DOCOMO, making it the first overseas branch company to win this award in its entirety in 13 years, marking a milestone.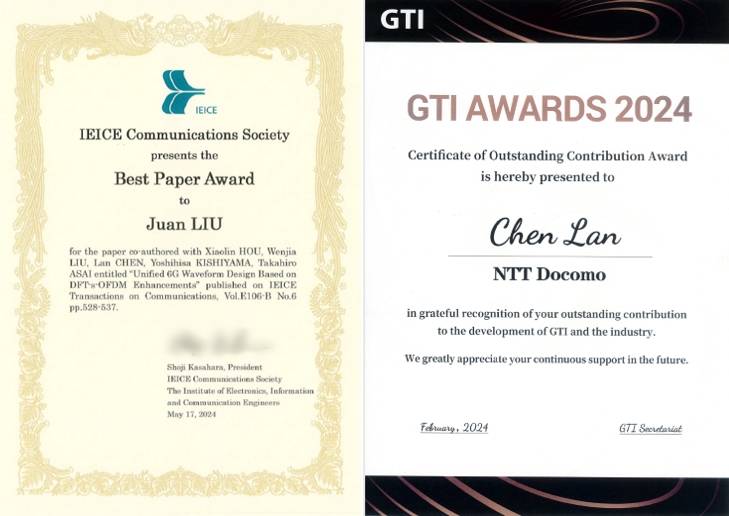 Special Prizes for Research