Remarks from the President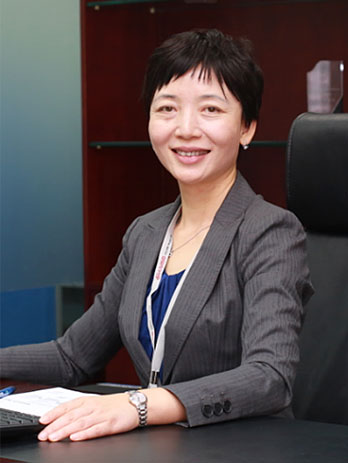 Innovation as a challenge in the 5G+AI era
In the era of Co-creation, DOCOMO's vision entails a 5G+AI two-pronged approach, creating a win-win situation: using 5G and AI technology to enhance user experiences, enrich users' lives, and to open up new markets and drive industry development. As a powerful impetus for innovation at DOCOMO, the DOCOMO Beijing Labs carry out day-to-day improvement on innovative concepts and continue to embrace new challenges.
China's intelligence is rapidly gaining influence when it comes to 5G and next generation mobile network. In the field of wireless communications, under government policy guidance, Chinese operators and manufacturers are working closely together to actively promote the development of technology and large-scale testing. In terms of artificial intelligence, China's output of research papers ranks first in the world, while the number of businesses engaged in related industries ranks second globally. At the same time, great efforts are being made to foster highly qualified talent in 5G and AI. With more than eight million college graduates in 2018, the number and caliber of competent, adaptable and motivated high-tech professionals are on the rise.
The Beijing Labs have seized opportunities and proactively welcomed the trends of the times while being wholeheartedly committed to reform and blazing new trails in innovation. The field of wireless communications is a traditional mainstay of the Beijing Labs. We continue to forge ahead and further intensify research in this field to focus on independent and leading innovation. AI is an emerging mainstay, and by learning from our strengths and weaknesses, we have developed integrated innovation strategies to excel and lead. While transforming from a single mainstay to flourishing in 5G+AI, the Beijing Labs have also transitioned from preliminary research to playing a role in applied research and development.
Specifically, the Beijing Labs have laid a solid foundation for the sustainability and stability of the company in its traditional mainstay of wireless communications, not only by creating technological reserves for core technologies, but also by keeping up with industry trends and promoting the standardization of future network technologies. During the process of developing the 3GPP R15 version, the Beijing Labs have contributed 40% of DOCOMO's papers in the RAN1 working group, and have played a leading role in the key technologies of large-scale MIMO, channel coding, and control channel design. Accordingly, the Beijing Labs actively leverage their experience in 3GPP standardization to implement new ways of introducing capabilities into DOCOMO's wireless network, as well as comprehensively evaluating performance.
On the other hand, in order to maintain the company's innovative vigor and adapt to the trends of the era, the Beijing Labs began research on AI technology two years ago. In the space of two short years, we have promoted collaborative research in the fields of natural language processing and computer vision through active research with universities and research institutions, quickly absorbing advanced technologies and rapidly producing research results.
But this is not all. Being based in China, the Beijing Labs actively cooperate with local institutions and companies in policy and business to achieve win-win situations. The Beijing Labs actively promote high-level meetings of relevant institutions, are the first foreign operator to participate in China's IMT2020 promotion group,  and have actively promoted a common spectrum for China and Japan through the implementation of the 4.4–4.9GHz verification test with manufacturers, which is essential for realizing the 5G eco system in the future. Through various technical discussions with major Chinese operators, the Beijing Labs have effectively reached consensus on future 5G and AI technologies. They also actively cooperate with advanced Chinese companies to explore advanced technologies such as IoT coverage enhancement, the expansion of drone communication areas and voice recognition/translation systems, providing solutions for the corresponding departments at headquarters.
"They who know the truth are not equal to those who love it, and they who love it are not equal to those who delight in it.": A love and passion for innovation in work is the big secret that drives the Beijing Labs to continue innovating.
"Continuous improvement is only possible with continuous innovation and growth.": In order to continuously provide high value to customers, the Beijing Labs is committed to the pursuit of excellence, always aiming for the top. We will never stop innovating.
1

Be trustworthy in word and resolute in deed

Innovation with Promise

Performing research and development closely related to new technologies and applications and involving quick turnaround, difficult tasks and high standards not only requires innovative technology, but also requires courage, commitment and determination. With the AI research team experiencing a personnel shortage, the Beijing Labs have boldly applied new cross-domain innovations, stuck to its commitments and produced high-quality results as planned. For example, as part of a project that enabled infrastructure inspection with image analysis technology, we delivered satisfactory results within one month and published the completed report.

2

To do a job well, you have to make the proper preparations

Innovation with speed-up challenge

At standardization conferences, "facts speak louder than words". With accurate and reliable simulation results, we can effectively persuade others since the Beijing Labs simulation platform is a powerful weapon for obtaining facts. We continue to improve the performance and expand the functions of the simulation platform to upgrade the weaponry. For this reason, we can promptly present our results and promote our strategy at standardization meetings that are less than two months apart.

3

Pressing ahead in the face of difficulties

Courageous forward-looking innovation

During the beginning of the standardization of uplink non-orthogonal multiple access technology (UL NOMA), multiple companies proposed more than ten technical solutions. Beijing Labs have the courage to open up the situation. Digging deep into information theory as a basis, they made full use of differences in transmission power to design the optimal sequence. Its performance ranks among the best in all technical solutions and it has established DOCOMO's advanced technology in NOMA.
Corporate Philosophy
创新带来灿烂生活
Deliver Brilliance to Life
Corporate Vision
5G+AI is a two-pronged approach, creating a win-win situation, enriching lives and enabling industrial innovation
Become the most influential Center of Excellence among global operators
Guide to Action
"They who know the truth are not equal to those who love it, and they who love it are not equal to those who delight in it.": Continuous improvement is only possible with continuous innovation and growth.
1."Be trustworthy in word and resolute in deed": Innovation with promise
2."To do a job well, you have to make the proper preparations": Innovation with speed-up challenge
3."Pressing ahead in the face of difficulties": Courageous forward-looking innovation
Brand Slogan
Live up to youth, Innovation never ends
青春不辜负,创新无止境